One of the most frequently asked questions from property owners is how do I know if I'm really a paying member of Glen Vista Property Owners Association (GVPOA)?
FIRST,  ALL PARCELS in Glen Vista are governed by the Covenants and By Laws,
Paying Member or not.
The question then becomes are you a Paying Member?
GVPOA began with Filings 9 through 16, due to water and well rights; these properties were automatically brought into the Association. Property owners in Filings 1 through 8 had the option to join. Currently, about 50% of those in Filings 1 through 8 are members. Once in, however, the property remains a member, regardless of who owns the property.
Few parcels – with or without dwellings – are not Paying Members so JOIN TODAY!
For properties in Filings 1 through 8, click here to view the member list. Member properties have a reception number associated with it, and all are recorded with the County Clerk.
If you have further questions about this, please use the "Contact Us" link above to contact the Board, or call 719.315.1520 to leave a message.
If you would like to join the POA and become a paying member, there is a simple process called Annexation and a form to fill out and return.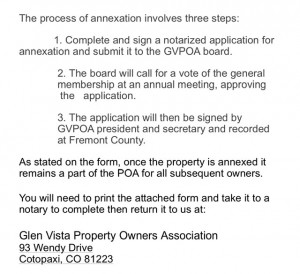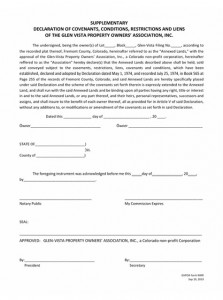 We thank all those who helped put this list together, especially the Fords and Cooks.